Recently, the New York Jets have been drafting better while not striking out completely in free agency so Jets fans do not have to deal with disappointing players as much as they had to in the past.
Last season's first-round pick Muhammad Wilkerson looks like he will be an anchor for the Jets at defensive end for years to come. Fifth-round pick Jeremy Kerley was a productive receiver who fit right in the slot and in the return game.
Free agent signings Plaxico Burress and Derrick Mason did not work out but former first round bust Aaron Maybin turned out to be a steal as he revived his career in New York. During his two seasons with the Buffalo Bills, Maybin failed to record a sack. With the Jets, he racked up six in just 13 games.
The recent success must continue if the Jets want to put the disappointing players of the past due to disastrous draft picks and poor free-agency decision making behind them.
In the 1990s, the disappointing players were Kyle Brady and Blair Thomas. Brady was drafted ahead of future Hall of Fame defensive tackle Warren Sapp. Thomas was drafted ahead of the NFL's all-time leading rusher Emmit Smith.
Here is a list of the most disappointing players of the new millennium.
David Clowney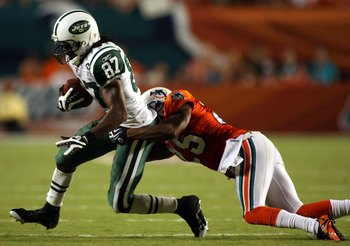 Marc Serota/Getty Images
At 6'0'', 188 lbs., and running a 4.3 40 at the combine, wide receiver David Clowney seemed to have the size and speed needed to succeed in the NFL. 
In 2007, he was drafted in the fifth round by the Green Bay Packers. During the season, Clowney was picked up by the New York Jets.
In the first game of the 2008 preseason, he was impressive as he had four receptions for 163 yards and two TDs. In the 2008 regular season, Clowney only appeared in two games and totaled only one catch for 26 yards.
In the 2009 preseason, he had two games with over 100 yard receiving yards. He was also more productive during the season, catching 14 balls for 191 yards.
Clowney was a ''flash player'', he always showed promise in the preseason but for whatever reason, he never became a factor when the real action started.
Unlike Clowney, Victor Cruz, the New York Giants receiver, was able to convert his preseason success into regular season success this year.
Clowney could have been the Jets' Cruz but now is biding his time with the Buffalo Bills and tweeting his HIV results.
David Barrett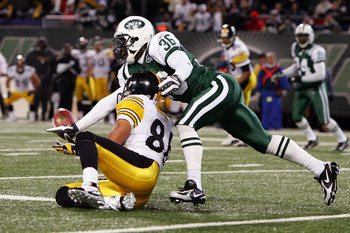 Jim McIsaac/Getty Images
David Barrett was the New York Jets big free-agent signing in 2004. He was given a contract for six years and $21 million to be their starting cornerback.
Barrett had a total of two standout seasons during the life of the pricey contract.
While his 10 interceptions through 2004 to 2007 were impressive, they masked his poor play as he was repeatedly out of position or missing a tackle to prevent an opposing player's big play.
In 2007, Barrett lost his starting job to Hank Poteat. He was then switched to safety the following season before ultimately being cut in 2009 to save salary cap room.
Mike Nugent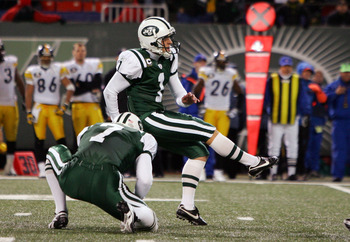 Jim McIsaac/Getty Images
In 2004, Mike Nugent won the Lou Groza Award, an award for the nation's top college kicker, while he was attending Ohio State University.
Nugent was rewarded for his kicking in 2005 when the New York Jets drafted him with the 47th overall pick.
One would think if a team uses that high of a pick on a kicker, the kicker would be on the team for more than three seasons and one game.
During his career with the Jets, Nugent made 22-of-28 field goals in 2005, 24-of-27 field goals in 2006, 29-of-36 in 2007 and 0-for-1 in 2008.
Needless to say, Nugent was far from the weapon that another kicker who was also drafted early, Sebastian Janikowski. After being selected in the first round of the 2000 draft by the Oakland Raiders, Janikowski is still with the team.
While it was clear to see Nugent was not going to be the long ball kicker that Janikowski was, the Jets front office and their fans had to have been expecting much more from him.
Justin McCareins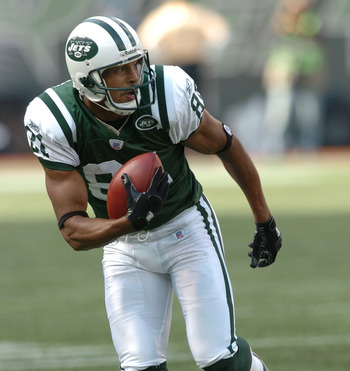 Brian Killian/Getty Images
Known by some as Justin McCan't Catch, Justin McCareins was acquired by the New York Jets in 2004 for a second-round pick.
The Jets were desperate to get the prototypical tall receiver to play opposite the speedy, short Santana Moss. So instead of waiting for the draft, they decided to go with a proven NFL commodity in McCareins.
The trade looked good on paper. McCareins was coming off his best year as a pro. In 2003, he had 47 receptions for 813 yards and seven TDs with the Tennessee Titans. It was McCareins' third season in the league, and at 26 years old, he looked to be entering his prime.
McCareins had a decent first season with the Jets in 2004 as he had a career 56 receptions. He regressed in each of the three seasons after, catching 43 balls, 23 balls than 19 balls.
He was often seen dropping the ball. In 2007, in a game against the Baltimore Ravens, McCareins dropped a wide open pass from Kellen Clemens late in the fourth quarter. Than in a last minute drive he tipped a ball in the end zone that was intercepted by Ray Lewis.
McCareins was cut after the 2007 season. 
Jason Taylor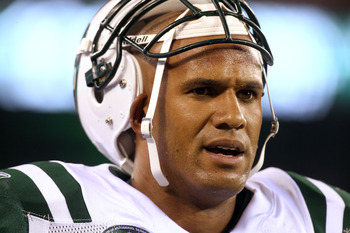 Jim McIsaac/Getty Images
After 12 seasons with the AFC East rival Miami Dolphins, Jason Taylor joined forces with the New York Jets to be the missing pass-rushing piece in a defense who appeared to be Super Bowl bound.
Even though Taylor was 36 years old in the 2010 season, the Jets were expecting more out of him than just five sacks. He was just two seasons removed from recording 11 sacks in 2007 with Miami.
Taylor was brought into to do just one thing, rush the passer. He failed to do so. So after the season, the Jets released him.
He returned to Miami in 2011 and recorded seven sacks before he retired as a Dolphin after the season. 
Kris Jenkins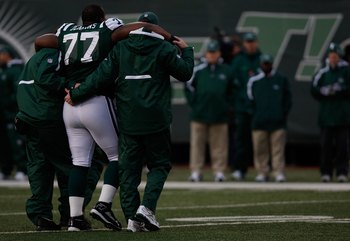 Jared Wickerham/Getty Images
In the 2007-08 offseason, the New York Jets traded a third and a fifth round pick to the Carolina Panthers for Kris Jenkins. The move seemed a bit risky since Jenkins had an injury history and was entering his eighth season.
However, the move looked like it paid off as Jenkins earned a trip to the Pro Bowl and was even in consideration for Defensive Player of the Year due to his dominant first season as a Jet.
Jenkins' problem was staying on the field. In the sixth game in his second season with New York, he tore his ACL and was unable to finish the season. In his first game of his third season, he tore his ACL again which ultimately ended his career.
Jenkins was so dominant his first season with New York that he raised the hopes of all Jets Nation only to send those hopes crashing down with those damn ACLs. 
Vinny Testaverde

Brian Bahr/Getty Images
Although his best season as a New York Jet was in 1998, Vinny Testaverde deserves to be on this list since he was actually with New York till 2003.
Yes, Testaverde had a great season with the Jets in 1998 when he earned a trip to the Pro Bowl while leading New York to the AFC Championship game. In 1998, he completed 61.5 percent of his passes and threw 29 TDs to just six interceptions for a QB rating of 101.6.
But he also shot down all playoff hopes, Super Bowl hopes, any kind of hopes the very next season when he ruptured his Achilles tendon on a simple drop back in the first game in 1999.
After recovering, Testaverde had two subpar seasons before being replaced by Chad Pennington in 2002.
Jets fans must sometimes still think what would have been in 1999 if Testaverde remained healthy.
Brett Favre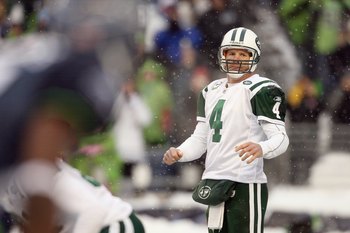 Otto Greule Jr/Getty Images
The New York Jets made huge moves during the 2008 offseason. Not only did they sign offensive linemen Alan Faneca and Damien Woody, linebacker Calvin Pace and trade for Kris Jenkins, they were also able to add a QB named Brett Favre.
The Jets were all in for a Super Bowl push for the 2008 season.
At first, everything appeared to be working out just as well as the Jets front office dreamed of.
After the first 11 games of the season, the Jets were 8-3 with Brett Favre looking fine. During the first 11 games, Favre had a career high six TD game against the Arizona Cardinals and shown flashes of brilliance at other times.
While the Jets appeared on their way to at least the playoffs, they improbably lost four of their last five games. In those last five games Favre threw two TDs and nine interceptions with his QB rating dropping to 45.1 in the last game of the season against the Miami Dolphins.
The last game against the Dolphins eliminated them from playoff contention. Miami's starting QB at the time was none other than Chad Pennington, the former Jets starting QB who was released in favor of Favre.
Things like this only happen to the Jets.
Later, it was reported that Favre was playing with a torn biceps tendon for the last month of the season.
Favre retired after the season only to un-retire the next season. He even appeared to have something left as he led the Minnesota Vikings to the NFC Championship game before disappointing them throwing an errant interception that would send them home.
Dewayne Robertson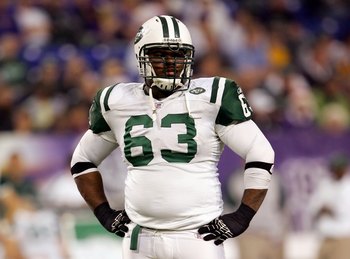 Lisa Blumenfeld/Getty Images
In the 2003 draft, the New York Jets selected a defensive tackle out of Kentucky, Dewayne Robertson, with the fourth overall pick. Still on the board were Terrell Suggs, Troy Polamalu, Nnamdi Asomugha and Osi Umenyiora.
With Robnertson, it wasn't even a question with injuries as he played in all but three games during his five seasons with the Jets.
He was even named AFC Defensive Player of the Week once and overall his stats were not all that bad. He averaged 51.4 tackles along with 2.7 sacks per season.
Robertson's problem was ''all that bad'' is not good enough for a fourth overall pick.
It appears the Jets' scouting department didn't do their homework for the 2003 draft.
Robertson was released by the Denver Broncos in 2008 and has since been out of the league. 
Vernon Gholston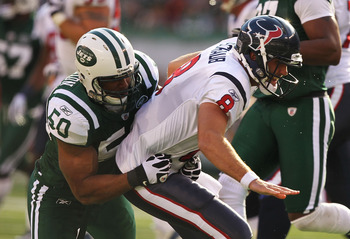 Al Bello/Getty Images
Vernon Gholston was not just a disappointment but rather a complete disaster. He should be jealous of JaMarcus Russell's NFL career achievements.
The New York Jets drafted Gholston with the sixth pick in the 2008 draft. He certainly looked the part as he measured in at 6'3'' and what looked to be 260 lbs. of pure muscle.
Gholston didn't know how to be productive in the NFL or just did not care. Either way, he will go down in history as one of the worst draft picks in Jets' history, and that's saying something considering their draft history.
He spent just three seasons with the Jets totaling a career 24 tackles and no sacks. Even Rex Ryan could not get Gholston to play.
It's hard to imagine Gholston recording 14.5 sacks in 13 games at Ohio State during 2007.
Last season, Gholston was relegated to the Chicago Bears' practice squad.
Begin Slideshow
Keep Reading