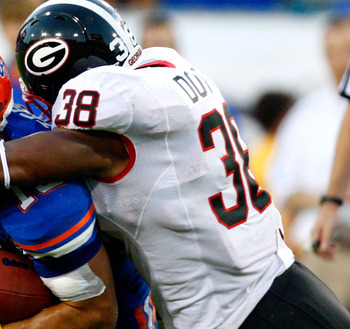 Above: Linebacker Marcus Dowtin
Kevin C. Cox/Getty Images
Quarterback
G.J. Kinne, Tulsa
Matt Simms, Tennessee
Kinne is a thick 6'2'', 234 pounder with a live arm and good ability to throw on the run. He has a great story and a close relationship with Chad Pennington. Kinne comes from a spread-option offense and is likely ticketed for a spot on the practice squad.
Simms was a transfer from Louisville who went to junior college and eventually wound up at Tennessee. Simms struggled in limited action, but does a good job taking care of the ball (five interceptions in 195 attempts in 2010, his only year starting) and has a good arm, but stares down his receivers and doesn't always properly read defenses.
Simms is a training camp arm with an outside shot at making the practice squad.
Tight End
Brian Linthicum, Michigan State
The 6'5'', 245-pound Linthicum has shown some ability as a receiver with 31 grabs his senior year. He doesn't have great separation ability, and I don't expect him to beat out either Jeff Cumberland or Hayden Smith for a roster spot/practice squad spot.
His best shot is to show he's a more able blocker then either Cumberland or Hayden.
Offensive Line
John Cullen, Utah
Anthony Parker, Western Michigan
Cullen is an athletic lineman who played tackle and guard at Utah, but is still a long shot to make the final roster. He's likely ticketed for a spot on the practice squad, as he puts on a little weight at 6'4'' and 297 pounds.
Watch out for him down the road. He has plenty of experience and NFL athleticism, just not the size or strength for anything other then zone-blocking. The Jets are unlikely to carry more than eight linemen, and I don't think he'll beat out Robert T. Griffin or Dennis Landolt.
Parker was a 48-game starter who was a solid run-blocker against average competition, Parker is 6'4'', 318 pounds and lacks athleticism. Don't expect him to make the roster; I'd be shocked if he was on the practice squad.
Defensive Line
Brett Roy, Nevada
Damon Harrison, William Penn
Donovan Robinson, Jackson State
Brett Roy is an undersized five-tech who may have to move to linebacker (or simply put on weight). He's strong and stout, but raw.
Harrison is a giant nose tackle listed approximately at 6'4'' and 350 pounds. He is facing stiff competition at the NT position from Pouha, Kenrick Ellis and Martin Teveseau. He's a practice squad candidate.
Robinson is a seriously undersized rusher but has quite a bit of speed. He's a project player with some upside thanks to his athleticism. Look for him to safely make the practice squad if he looks good in the preseason.
Linebacker
Marcus Dowtin, North Alabama
A former Georgia transfer, Dowtin is a legit athlete with good football instincts. At 6'2'' and 226 pounds, he needs to add some weight. He went undrafted due to character issues and may very well crack the Jets' 53-man roster as a special teamer early in his career.
If not, he's probably the strongest practice squad candidate currently on the roster.
Defensive Back
Ryan Steed, Furman
D'Anton Lynn, Penn State
Donnie Fletcher, Boston College
Surprisingly, all three of these players went undrafted. Steed is a long, athletic corner who is very raw but very physical. Lynn is a good zone corner (maybe a safety) whose father coaches the running backs and is a great practice squad candidate. Fletcher is another big corner who could use some refinement in his game.
Don't be shocked if one of these three players makes the 53-man roster. Steed is probably the most physically gifted, but Fletcher moves very well for his size.
It wouldn't shock me if all three make the practice squad, but I'm still banking on one of them getting a roster spot.
Special Teams
Brody McKnight, Montana
The former kicker and punter McKnight has a solid leg, but inconsistent accuracy, though he greatly improved in his junior and senior year. He is just a camp legâ€"unlikely to beat out both Nick Folk and Josh Brown.
 
Projected to Make Final 53
LB Marcus Dowtin, North Alabama
DB Ryan Steed, Furman 
Projected Practice Squad
QB G.J. Kinne
WR Scotty McKnight (non-rookie)
OL Matt Kroul (non-rookie)
OL Dennis Landolt (non-rookie)
DL Brett Roy
CB D'Anton Lynn
CB Donnie Fletcher
S Tracy Wilson (non-rookie)