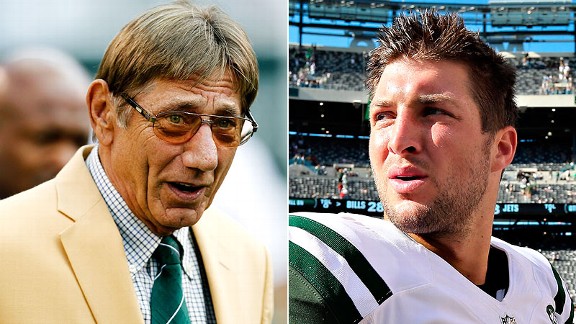 Getty ImagesJoe Namath doesn't think Tim Tebow could step in as the starter if Mark Sanchez got hurt.
Joe Namath was quick to praise
Tim Tebow
for his work ethic and sincerity.
But if Jets starting quarterback Mark Sanchez ever were to get injured, Namath doesn't think Tebow could step in and become the New York Jets' No. 1.
"God forbid something happens to Sanchez. See, this is where I'm confused. I don't think the second guy really is Tebow," Namath told ESPNNewYork.com on Tuesday night.
Asked why he believes third-stringer Greg McElroy would be a better fit to take the majority of snaps if Sanchez got hurt, Namath said, "Because you're not gonna win consistently with the Wildcat offense unless Tim passes a lot better, maybe a little quicker."
Tebow carried five times for 11 yards in Sunday's 48-28 Week 1 blowout victory over the
Buffalo Bills
but did not attempt a pass. For his career, the 25-year-old has a 47.3 percent completion mark.
"I don't think he can consistently play the quarterback position as we know it as opposed to the Wildcat without improving his passing accuracy," Namath said of Tebow. "You've got to be more accurate than that today, and Tim's got a big motion. He's working on it, and he can improve it. So that remains to be seen."
So far, Namath does believe Tebow has been a "plus" for the Jets.
"Because of the guy he is, because of the aura he has around him. His work ethic. His sincerity," Namath said. "You want him as a teammate on your side. You want to find a place to use him. But teams have seen Tim play before -- last year -- they have to prepare to defend against a certain kind of offense if he's on the field. It takes up their time. He's a weapon just being there, let alone getting on the field to help."
As for Sanchez, who completed 19 of 27 passes for 266 yards, three touchdowns and one interception Sunday, Namath said, "I thought he got out of the box in brilliant fashion, wonderful fashion.
"I know Sanchez can work long term, and I know that there's a spot for Tebow in the other kind of offense. These teams have to spend time preparing for it."
Namath said he was surprised with how well the Jets looked in their season opener.
"They looked so good, I have to admit I was somewhat surprised, because looking at the preseason -- and believe me, I know that preseasons are to get things ironed out," Namath said.
"I wasn't surprised at our defense, except for the second half, but you know when you get a lead, you kind of back off, at least they did, and [coach] Rex [Ryan] is not happy about it. So maybe they'll play a little different next time. But the offensive line really did a great job. Austin Howard playing against [Mario] Williams, I was really surprised at that.
"Somebody said that game is not a big deal. Excuse me, every game is a big deal, because at the end of the season, it's better to be 9-7 and make the playoffs, so every loss is against you and it was a great start to the season no doubt."
Namath later spoke to fans at a dinner in Manhattan honoring him for becoming the host of the new Joe Namath Hour on Mondays from 6 to 7 p.m. ET during "The Michael Kay Show" on ESPN New York 98.7.
Namath has been critical of Tebow since he was traded to New York in what Namath called a "publicity stunt."