Jets head coach Rex Ryan has yet to rule out a return for safety Jim Leonhard, and rightly so, because the team has not yet found his true replacement.
Sure, rookie safety Josh Bush brings a nice bit of athleticism to the position, and has the speed to cover from sideline to sideline as is often required in the Cover 1 scheme the Jets run in the back end.
Yes, the Jets brought in veteran safeties LaRon Landry and Yeremiah Bell, who should provide a nice amount of leadership in the secondary.

Stats courtesy Pro Football Focus.
But none of them brings the combination of both that Leonhard brought to the Jets' secondary. He's been a big part of the defense since joining the team in 2009.
Leonhard's been a key cog in Rex Ryan's defense dating back to their time together with the Baltimore Ravens. He's intimately familiar with all of the nuances of the defense and knows the defensive calls for the back end.
These are not traits that are learned in one offseason, and while Yeremiah Bell can certainly help bring Bush along both in run defense and as a team leader, the Jets could still be absent a true field general in the secondary like they had with Leonhard.
The Jets have had to do without him for 11 games in the past two seasons, but they could have to do without him for 16 games unless they re-sign him. And they should strongly consider it.
The Jets visibly struggled without him when he was injured in 2010, starting with a 45-3 drubbing to the Patriots, and though they made a push in the playoffs and put the brakes on Tom Brady and Peyton Manning, it would be foolish to think they were the same defense. It was, after all, Leonhard's game plan that helped the Jets get past the Patriots.
They again lacked a viable replacement when he went down in 2011 with a knee injury, as well, and proceeded to lose the final three games of the season for that and other reasons. Replacing him wasn't easy midseason, and they haven't made it much easier on themselves in the offseason.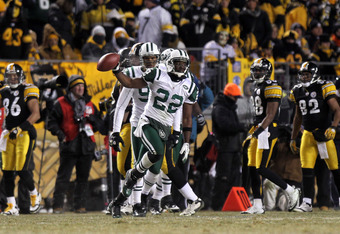 Nick Laham/Getty Images
That includes allowing safety Brodney Pool to walk in free agency, but even Pool wouldn't have completely helped the problems.
In losing Leonhard, finding his replacement would be difficult no matter what.
Leonhard may have been on or near his last legâ€"figuratively and literallyâ€"after suffering two leg injuries in just over a year, but replacing him won't be just about finding a fresh set of legs. It will be about finding a figurehead for the secondary and the defense as a whole.
Erik Frenz is the AFC East lead blogger for Bleacher Report. Be sure to follow Erik on Twitter and '"like" the AFC East blog on Facebook to keep up with all the updates.