Commentary
With new offensive coordinator in the fold, Jets are focused on limiting turnovers
Updated: May 29, 2012, 9:01 PM ET
By
Rich Cimini
| ESPNNewYork.com
It began in February at a posh hotel in Fort Lauderdale, Fla., where Mark Sanchez -- on a fact-finding mission -- met with former Jets quarterback Chad Pennington to discuss all things Tony Sparano.
They met four times for a total of nearly 10 hours, two quarterbacks talking football over a dry-erase board in one of the hotel's conference rooms. Pennington gave Sanchez an insider's look at what it's like to play quarterback for Sparano, which he did for three years with the Miami Dolphins, and it kept coming back to one theme.
Protecting the football.
In mid-April, on the first day of the New York Jets' offseason program, running backs coach Anthony Lynn addressed the entire team for 15 minutes. He gave a tutorial, complete with video clips, on the proper way to carry a football -- the New York Jets way.
"When you spend that much time on carrying the ball ... you know they're serious about it," tight end Dustin Keller said. "Every single day, we talk about it in some way, shape or form -- protecting the football."
That basic concept will go a long way toward determining whether the Jets can rebound in 2012 -- and whether Sanchez can prevent Tim Tebow from taking his job. If they repeat last season -- 34 turnovers, the fourth-highest total in the league -- the Jets will implode.
There's no way a ball-control team can win games when it fails to control the ball. There's no way Sanchez, charged with 26 of the 34 turnovers, can survive another season with that many giveaways -- not with Tebow lurking.
At times last season, the Jets were sloppier than Oscar Madison's bedroom. Looking for more discipline, Rex Ryan hired the turnover police -- Sparano, a no-nonsense coach who won't tolerate fumbles and interceptions.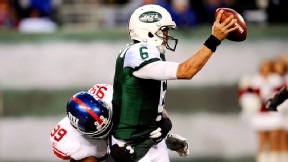 AP Photo/Bill KostrounNew Jets OC Tony Sparano won't tolerate any of Mark Sanchez's careless ballhandling this season.
Few people know Sparano's approach better than Pennington, the quintessential game manager who directed the Miami Dolphins to the AFC East title in 2008. That year, they tied an NFL record with only 13 turnovers.
So when Pennington huddled with Sanchez in February, a "dead" period under the new CBA for coach-player classroom sessions, he made sure to emphasize Sparano's general philosophy as much as specific X's and O's. Pennington believes Sparano's run-oriented style will be a "fantastic fit" with Ryan's defensive mentality.
"When you have a Rex Ryan-style defense, attacking all the time, you have to complement it," Pennington said in a phone interview. "You have to run the ball, keep the defense off the field and protect the football. ... More football games are lost in this league rather than won."
That's a nice way of saying it's up to the quarterback not to screw it up.
In three seasons, Sanchez has committed 63 turnovers in 47 games. Only one quarterback since 2009 has recorded more giveaways -- the New York Giants' Eli Manning (72), according to ESPN Stats & Information. People tend to forget that kind of stuff when you win a Super Bowl.
Sanchez knows he has to be better. He said the "most important" lesson he took from last season was ball security.
"No matter who your coordinator is, I've got to take care of the ball better than I did," he said.
Sparano preaches it every day, not only to Sanchez, but to every player. He tries to make each play turnover-proof by providing a point of emphasis. Obviously, much of it is directed toward the quarterback.
For Sanchez, it could be a certain read or a quicker-than-usual check-down to a running back or a ball-placement command -- i.e. a specific window on a particular pass route. It's all about minimizing risk.
"I think at the rate we're going, I think we're all going to do well, I really do," Sanchez said. "I think he's really tried to impress upon us the importance of the football."
Sparano's way isn't foolproof. In fact, from 2009 to 2011, his Miami teams committed the same number of turnovers as the Jets -- 85, tied for 11th in the league, according to ESPN Stats. He lost Pennington to a serious shoulder injury in 2009, and he never was able to replace that efficiency at the quarterback position.
A coach can bark about turnovers until he loses his voice, but it doesn't matter much if the quarterback treats the football as it it's radioactive. Sanchez did that last season, especially down the stretch, and the results were calamitous.
The Jets allowed a league-high seven touchdown returns on interceptions and fumbles, the most since the St. Louis Rams in 2009, according to the Elias Sports Bureau. Do the math: That's giving away 49 points, a field goal per game.
Ryan is well aware of that stat. So is Sparano. Even though the current OTA sessions are non-contact, the offense practices "tackling" on interception and fumble returns. Yes, there is a method to the madness, a scripted effort to bring down the ballcarrier.
"If there is a turnover, the entire offense -- I don't care where you are, you can be in the bleachers -- they're running on the field, trying to make the tackle," Ryan said. "I think the big thing is, Tony recognizes that you've got to get him on the ground. ... We have an excellent defense, they're not in there until they're in there."
Of course, the answer to the tackling problem is, don't give up the ball in the first place. If you do, that's when Tony turns into a tiger.
"If you ever want to see him get riled up," Ryan said, "it's when you turn the ball over and you're not protecting it."