There is no shortage of opinions online, on TV, in your house, on the street, the train, bus, etc. etc. etc...etc...on the Tim Tebow and Mark Sanchez situation in New York. From the moment the Jets announced the trade to bring in Tebow from the Broncos, it made little sense to anyone.
Mike Tannenbaum and Rex Ryan may have established reputations as a general manager and head coach respectively, but recently, a lot more has gone wrong than right for the duo.
The Jets' decision making was perplexing this offseason, but what is overlooked is the fact that they made poor choices last year that led to those this year. The most significant mistakes the Jets made last year came on the offensive side of the ball.
Now, let's get this clear from the start, I do not believe Mark Sanchez is a great quarterback. I don't even think he has the potential to be one ever. I do believe he is a mistreated quarterback who could win a championship with adequate support. Whether teams want to believe it or not, there are not 32 elite quarterbacks available who can carry your team to a Super Bowl championship.
Sometimes you have to face the facts and buy into a lesser quarterback, because an elite one is not available.
That does not condemn you to a ringless existence, however, provided you make the right moves. Rarely is it the right move to fully commit to a lesser quarterback, but if that quarterback is capable of allowing you to win, then you should be willing to build the franchise around him.
It is somewhat of a misconception that only the teams with elite quarterbacks have won the Super Bowl over the last few years. It is a legitimate argument that seven of the last 10 Super Bowl winners were led by their defenses. Each team had quarterbacks who contributed but were not necessarily elite, nor did they carry them to that point.
When Tom Brady won his three Super Bowl rings, he played an important role. Each of those teams were led by their defenses, though. The Tampa Bay Buccaneers forced five turnovers in Super Bowl XXXVII. Second-year quarterback Ben Roethlisberger had an awful performance in 2006 before winning his second ring with the best defense in the league in 2009. Eli Manning's two rings are largely due to the awesome displays by Tom Coughlin's defenses, although it would be foolish to suggest he wasn't a major part.
You don't need an elite quarterback to win a Super Bowl. You do need a good one, though.
Neither Mark Sanchez or Tim Tebow are good quarterbacks. Tebow largely benefited from the Broncos' defense last year, while Sanchez's development has been ruined by his franchise's poor decision making.
The Jets have gone past the point where they can do it, but they should have bought into Sanchez completely instead of adding Tebow.
Recently, I gave Mark Sanchez an honorable mention on my all underappreciated team. The reason Sanchez is there is not because his fans don't appreciate him. The reason Sanchez is there is much worse. The reason Sanchez is there is because his franchise doesn't appreciate him.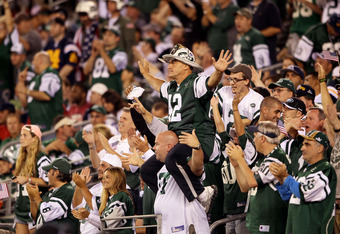 Elsa/Getty Images
It's understandable that fans would think that Sanchez isn't good enough. Very little has happened on the field to suggest that Sanchez will ever be a star like Aaron Rodgers or Tom Brady. That's the caliber of quarterback that fans crave. Fans will always compare their own signal callers to those players because of that craving.
The casual fan doesn't understand that the quarterback position isn't like a guard or center. Yes, the casual fan realizes that the quarterback is more important, and he or she knows more names of the quarterbacks than guards. Casual fans don't understand that the quarterback position can't be a competition. At guard, you can send two prospects in and let the best player win out; the quarterback takes time to develop.
Forget Cam Newton, Andy Dalton, Roethlisberger and Matt Ryan; those guys are the exceptions. If you want a good quarterback, you have to commit to his development for up to three or four years.
Mark Sanchez was a victim of his franchise not considering his development since his rookie season. In a sense, Sanchez's success as a rookie hurt him, but even that shouldn't have because statistically Sanchez wasn't spectacular.
The Jets went to the AFC Championship game during Sanchez's rookie season. Sanchez was largely a passenger that year, as he started out hot but hit a rough patch, which he never really recovered from. With a rational thought process, that is acceptable. He was a rookie; all rookies struggle at some stage. It's part of their development.
With their young quarterback doing well on the field, despite playing in the media storm that comes with New York professional sports, the Jets made bold moves before the 2010 season to take the next step with Sanchez.
After adding Braylon Edwards four games into his rookie season, the Jets added LaDainian Tomlinson and Santonio Holmes to the offense for his second season. Holmes and Tomlinson severely cranked up the expectations for Sanchez's second season because he was now surrounded by talent.
All things considered, the Jets had a fine offense in 2010, one worthy of winning a Super Bowl. It wasn't the most friendly offense for a young quarterback, however. Shonn Greene and Tomlinson weren't bell cows who he could rely on, while Sanchez and Edwards were characters to say the least.
Nonetheless, Sanchez continued to grow, and you can't really say that the Jets curtailed his development, as they once again reached the AFC Championship game. The problem is, they invested too early. Sanchez wasn't ready to carry the offense to a Super Bowl victory, and the pieces weren't in place the following year when he was ready.
Last year, Sanchez didn't have a good year once again, but it wasn't as big a deal as the national media made it out to be.
Much of Sanchez's struggles weren't of his own doing. Last year was the first year when I actually thought it was fair to judge Sanchez. Last year, Sanchez was never in a position to succeed however.
From day one, the Jets had constructed their offense poorly. Peyton Manning, Aaron Rodgers or Drew Brees wouldn't have made this offense one of the best in the league.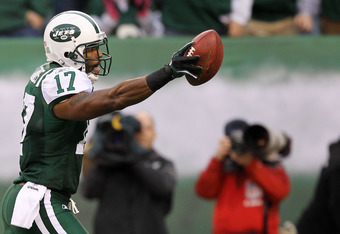 Al Bello/Getty Images
Gone was Braylon Edwards, replaced by the lesser Plaxico Burress. Jerricho Cotchery found a new home with the Pittsburgh Steelers as Derrick Mason arrived. LaDainian Tomlinson's sell-by-date had passed, while Shonn Greene had showed his inconsistencies the previous year. Alan Faneca left for Arizona, but Wayne Hunter remained. Santonio Holmes was re-signed to a huge deal.
The Jets offense was way too slow at the beginning of the season. Mason had nothing left. Burress was nowhere near what the team expected him to be, while the running game wasn't scaring anyone and pass protection was suspect. With all that going on around him, how could Sanchez really be expected to perform?
I'm not one for making excuses, but I don't hold Sanchez to the same standards as Peyton Manning or Aaron Rodgers because I'm not a Jets fan. I don't hope for him to be anything that he will never be.
This offseason, the Jets had an opportunity to move forward with Sanchez. Getting rid of Holmes was never an option because of his contract, but outside of that, they entered the offseason with a clean slate to build a better offense for Sanchez.
Brian Schottenheimer was fired essentially for being too cautious with Sanchezâ€"because why wouldn't you throw deep balls to Burress, Mason, Jeremy Kerley and Dustin Keller all day with Wayne Hunter at right tackle?â€"and he was replaced by Tony Sparano. Sparano wasn't able to develop Chad Henne in Miami nor did he really improve the Dolphins' passing game.
Sparano is an offensive guy that prefers to run the ball, so instead of doing everything possible to improve the team around Sanchez, they brought in a quarterback to improve the running gameâ€"Tebow.
The Jets gave up a fourth and sixth-round pick for Tebow. That may not seem like much, and more often than not, picks that late don't work out, but by trading for Tebow the Jets gave up the chance at getting the next Jacoby Ford, Mike Williams (both fourth-round picks) or Antonio Brown(sixth round). Further compounding the trade is the fact that this year's draft had a lot of depth at wide receiver.
Instead of getting exciting prospects to add to Stephen Hill and potentially diversify Sanchez's arsenal, the Jets brought in the greatest possible distraction to disrupt his play on the field.
The Jets offense this year has Chaz Schilens, Stephen Hill, Santonio Holmes and Jeremy Kerley at receiver with Shonn Greene and Joe McKnight in the backfield. Compared to the group to the 2010 offense is like comparing a machete to a bread-knife.
Instead of getting older guys to challenge for the Super Bowl in 2010, the Jets should have focused on adding pieces that could develop with Sanchez. This year their offense doesn't look to be in any better shape than it was last year.
In fact, with Tebow on the roster and coming off a season when the locker room imploded, it could be in worse shape. There is no doubt that not every single player on the Jets roster will want Sanchez to be the starter.
That is what happens when the franchise itself doesn't make definite decisions. The Jets don't know where they are going this year, Mike Tannenbaum and Rex Ryan don't appear to know either. You don't need a great quarterback to win in the NFL, but you do need great coaching and decision-making.
Not one of the last 10 Super Bowl winners didn't have both.
Tweeting @Cianaf