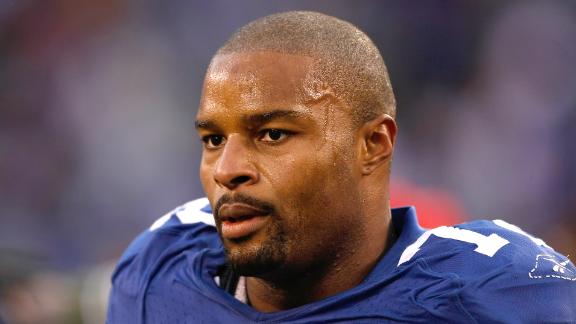 Giants In Talks With Umenyiora
Giants In Talks With Umenyiora
EAST RUTHERFORD, N.J. -- New York Giants defensive end Osi Umenyiora continues to sit out the team's voluntary offseason workouts and linebacker Mathias Kiwanuka says he can certainly understand why his teammate is frustrated.
"His situation ... he has been under contract in a bad deal for years now and anybody who looks at the situation would say well, this should have been taken care of a long time ago," Kiwanuka said Wednesday when asked about Umenyiora's contract dispute with the Giants. "For whatever reason it hasn't. So I understand his frustration."
"

If he was signed to a deal that was twice that and he performed half of what he is, he would have been cut by now.

"

-- Giants LB Mathias Kiwanuka
on Osi Umenyiora's contract
Umenyiora is entering the final year of his contract and is set to earn just under $4 million. The defensive end has long wanted an extension and general manager Jerry Reese said the team has offered Umenyiora an extension the past two years.
Umenyiora countered by saying that the team was only offering a guarantee of half of the $10.95 guaranteed money Kiwanuka received when he recently signed a three-year extension worth $21.75 million.
Umenyiora said Kiwanuka deserved the extension and the linebacker on Wednesday said he was not upset that Umenyiora brought up his deal while disputing the Giants' extension offer.
"There was nothing that he said that was outright disrespectful," Kiwanuka said. "Osi and I, we have a relationship. I know if something came up that I felt was out of line, I would have called him and we would have handled it but I didn't think it was anything that went that far.
"I know it wasn't a slight at me, he was just trying to get his point across," Kiwanuka added.
Teammates understand Umenyiora's point of contention. The defensive end has long been looking to upgrade the seven-year, $41 million contract he signed in 2005.
Umenyiora is seeking an extension the neighborhood of the ones signed by Philadelphia's Trent Cole and Indianapolis' Robert Mathis. Cole signed a four-year extension worth $48.525 million, including $15 million guaranteed. Mathis' new four-year extension is worth $36 million with $17 million guaranteed.
"It's hard," teammate and good friend
Justin Tuck
said Tuesday while on Jim Rome's show on CBS Sports Network. "He signed a contract and I believe in abiding by that contract but also I think he's outplayed that contract in today's market and how some of these defensive ends are getting paid lots of money, I think he deserves to get paid.
"I'm rooting for him to end his career as a Giant," Tuck added. "But you also understand the business aspect of things and at the end of the day I just hope everything works out for him and his family and the Giants."
Kiwanuka hopes all ends well for Umenyiora later this summer as well.
"If he was signed to a deal that was twice that and he performed half of what he is, he would have been cut by now," Kiwanuka said. "That is just the reality of this game. But the fact that he is signed to a lower average salary deal and playing at a high level, 10-plus sacks every year, the fact that nothing has been done with it, it is an obvious issue. It would be an issue for anybody out here. I understand his frustration but there is nothing I can do about it.
"At this point, he is trying to do whatever he can," Kiwanuka added. "Everybody looks and sees how things are going for him and then wonders what would happen if I were in that same situation. As a player you empathize with him and hope it gets done."