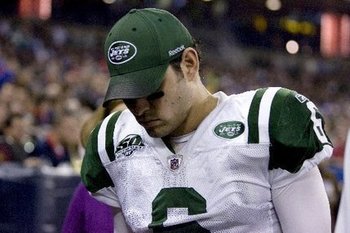 The New York Jets had a very disappointing 2011-2012 season. After making back-to-back AFC championship games the team stumbled to an 8-8 record and missed the postseason entirely.
With the defending AFC champion New England Patriots in their division and other talented teams such as the Ravens and Steelers to compete against, the Jets needed to vastly improve their roster this offseason to become a legitimate Super Bowl contender.
The Jets have been active this offseason, both bringing in players and new coaches to their franchise. However, many of their moves have been questionable to say the least, and are a step in the wrong direction for the team. Â 
5) Failure to Acquire Offensive Firepower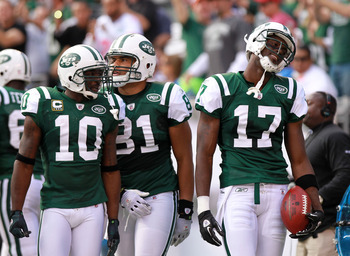 The Jets offense has been their weakness during the Rex Ryan era. They don't have players who opposing defenses need to game plan for or who strike fear into their hearts.
The Jets did sign Santonio Holmes a few seasons ago, but his poor attitude has affected his production.
Their offensive philosophy has been ground-and-pound and to largely rely on their running game. However, starting running back Shonn Greene is not an elite player who can carry the load by himself.
The Jets needed to go after a talented receiver or two this offseason, but have failed to address that need. They signed Chad Schilens, but there were better options such as Brandon Lloyd, Mario Manningham or even Randy Moss available.
Adding explosive offensive weapons was a major need for the Jets this offseason. Mark Sanchez's development has been hindered by the lack of talent around him, and the team has done nothing to change that.
4) Rex Ryan
Rex Ryan used to be known as a defensive mastermind. Now, the head coach of the New York Jets is thought of as a caricature of himself who cares more about being the face of his franchise than winning football games.
Every year since becoming the team's head coach, Ryan has guaranteed a Super Bowl victory. Ryan has also called out many opposing players in post-game press conferences and even on the field. These along with many of his other self centered antics were all ploys to bring the attention back to Rex.
You can't win with a coach who cares more about his own reputation than the success of the team. Ryan's humor and bravado were funny when the Jets were making AFC championship games. Unfortunately, as evidenced by the team's disastrous end to the 2011-2012 season, a loud mouthed coach can only control his team for so long.
3) Sanchez's Contract Extension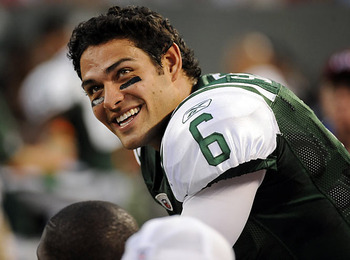 Mark Sanchez has yet to prove he possesses the ability to be a franchise quarterback. That didn't stop the New York Jets from extending his contract three years, giving him a grand total of $58.25 million over the next five seasons.
Sanchez is currently the NFL's seventh highest paid quarterback. His numbers suggest that he's far from a top 10 quarterback, and is closer to being outside the top 20.  
Last season, Sanchez ranked 23rd among 33 qualifying quarterbacks with a passer rating of 78.2. This ranked him behind the likes of Tarvaris Jackson, Andy Dalton and Kevin Kolb.
Sanchez's completion percentage of 56.7 ranked 27th, and he also threw 18 interceptionsâ€"the fifth most in the NFL.
Not only are Sanchez's numbers poor, but the quarterback has showed little improvement in his career. His lack of development despite the talent he possesses brings into question his work ethic and desire to be great.
All the numbers indicate that Mark Sanchez is far from being an elite NFL quarterback. Still, the Jets decided to pay him like one, and it may set their franchise back for years to come.
2) Bad Contracts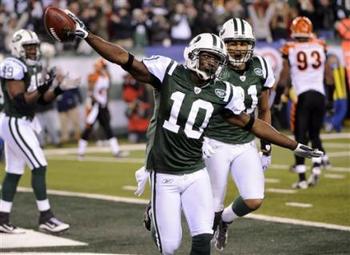 The contract extension of Mark Sanchez is obviously one that has been scrutinized by many. The Jets also have a large amount of money tied up in players who are either aging or haven't performed up to their potential.
Bart Scott's best days of football are behind him. He will be 31 years old next season, and it is widely believed that if his contract wasn't guaranteed, the Jets would have parted ways with the veteran this offseason.
Back in 2009 signing Scott looked like a great move for the Jets. However, his production has gradually decreased over the past few seasons and his presence and contract is preventing the team from moving on.
Another move the Jets have to be seriously rethinking is the signing of Santonio Holmes. In 2011, Holmes signed a five-year, $45.25 million deal with the team, including $24 million guaranteed. Â 
Holmes has not produced at a high level during his time in New York. Last season he caught just 51 passes for a career-low 654 yards. Also his attitude and volatile behavior have caused friction in the Jets locker room.
The bad contracts on the Jets roster make it tough for the team to improve their talent and progress as a franchise.
1) Tebow Trade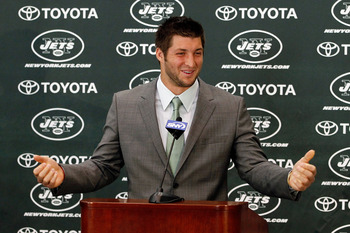 Jeff Zelevansky/Getty Images
Although many disagree with the decision of the team to extend the contract of Mark Sanchez, the fact is it happened. The team decided that Sanchez is their franchise quarterback and will lead them for the foreseeable future. Â 
After the three-year extension, Sanchez's contract is now worth of $58.25 million over the next five years. One would think the Jets were fully committing to their 25-year-old gunslinger.
That was until the Jets decided to trade for the circus that is Tim Tebow.
Tebow is the most talked about and controversial player maybe in NFL history. The media attention and conversations he generates create a huge distraction for the Jets organization.
The first time Sanchez throws an interception this season there will be thousands of fans screaming for Tebow. Knowing how fragile Sanchez's psyche has been over his first few NFL seasons, bringing in such a polarizing backup is a major risk.
The trade sends mixed signals to the team. Quarterback is by far the most important position on the football field, and bringing in Tebow weeks after extending Sanchez's contract is confusing to the rest of the players in the Jets locker room.
Begin Slideshow
Keep Reading

New York Jets: Like this team?