Fresh off a Super Bowl championship, the title defense officially begins Wednesday when the New York Giants have their first mini-camp. The rookie mini-camp was held a week and a half ago; this will be the first time the rookies get a chance to perform with the veterans.
As with any season, there are a handful of players the fans and coaches will have their eyes on. Whether it is due to a young or new player breathing down their neck or the player simply needing a good 2012 season, several players will be feeling the pressure starting tomorrow.
Here are seven players I have in mind. Feel free to comment below if you feel I missed anyone.
Will Beatty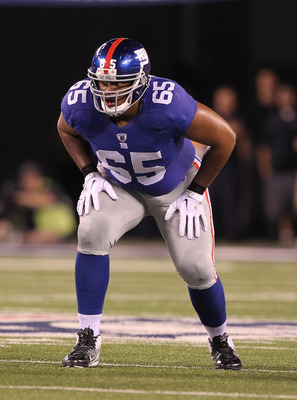 Al Bello/Getty Images
After Will Beatty went down with a detached retina in Week 11, the Giants saw a noticeable difference in their rushing attack. In the final six games of the season, the Giants averaged 99 rushing yards per game, a stark contrast to the 83.2 they averaged in the 10 games Beatty started at left tackle.
Neither one of those numbers is very impressive, but obviously, the Giants were better without Beatty. It is assumed he will resume his role as the starting left tackle in 2012.
The Giants just drafted two offensive tackles in the 2012 draft and still have 2011 fourth-round pick James Brewer. Beatty should definitely be feeling the heat.
David Diehl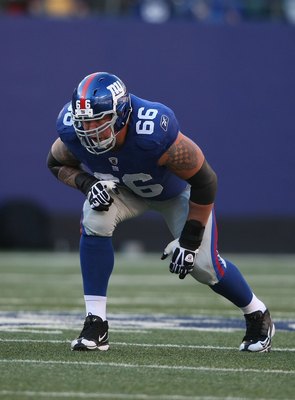 Nick Laham/Getty Images
The one good thing David Diehl has going for him is the Giants saw a clear improvement when he took over at left tackle in 2011. The problem is, he still was not very good, and Pro Football Focus ranked him the worst pass-blocking tackle in 2011.
His experiment at left guard did not pan out well either, so he has to be questioning whether or not he'll even start in 2012. He'll never say that in public, but deep down, he has to see all the young players breathing down his neck.
Diehl could be in a battle for left tackle, left guard or even right tackle. Unless he shows improvement from last season in camp, Diehl could be relegated to veteran bench player.
Domenik Hixon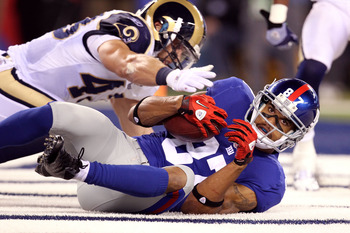 Al Bello/Getty Images
Although the Giants love Domenik Hixon and expected a breakout season for him in 2011, injuries have kept him out of both the 2010 and 2011 seasons.
He hasn't had meaningful numbers since 2008, when he caught 43 passes for 596 yards and two touchdowns. He finally got an opportunity for increased playing time in 2011, but managed just four catches for 50 yards before tearing his ACL against the St. Louis Rams.
With Rueben Randle being added to the madness that is the Giants' third wide receiver spot, Hixon cannot feel comfortable about his playing time in 2012. He has to perform well at camp, especially to show the coaching staff he has recovered from his injury.
Ramses Barden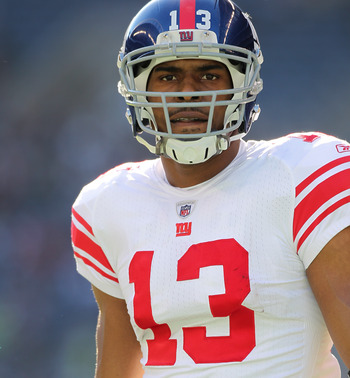 Otto Greule Jr/Getty Images
In three years with the New York Giants, Ramses Barden has managed just 15 receptions and 194 yards with zero touchdowns. The former All-World D-II wide receiver has not lived up to his hype.
After he was drafted, fans were excited about the 6'6'', 230 lbs. wide receiver's ability to replace Plaxico Burress. He was supposed to be a dominant red-zone target for Eli Manning.
Instead, he's been ravished by injuries and done little with his opportunities, the few that he's had. If he wants a future on this roster, 2012 is the year for him.
Ahmad Bradshaw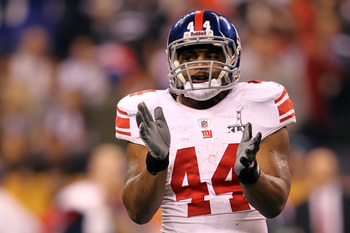 Jamie Squire/Getty Images
You might be surprised to find Bradshaw's name on this list, but hear me out. Not only is Bradshaw coming off a poor year (by his standards), but he's been playing through some serious foot injuries the past two seasons.
He had an injection in his foot to help the healing process earlier this month, but who knows how playing on those injured feet have effected his longevity.
There is no doubting who the starter isâ€"it's Bradshawâ€"but the Giants just drafted David Wilson with the No. 32 overall pick in the draft. I would not be the least bit surprised if Wilson took the starting job as early as next season.
Bradshaw needs to have a good camp and a better season to hold off the rook.
Terrell Thomas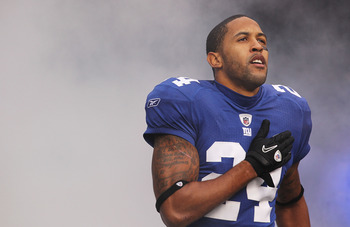 Al Bello/Getty Images
I have never doubted Terrell Thomas' ability to come back from his knee injury and assume his old starting position, which he will, but he now has two young players to keep a watchful eye on.
2011 first-rounder Prince Amukamara and 2012 third-rounder Jayron Hosley are expected to start the season as backups, but Thomas had better not get too comfortable. His ACL surgery was the second of his career, with the first coming at USC in 2005.
If he shows any signs of slowing down, it won't be good news for him.
Clint Sintim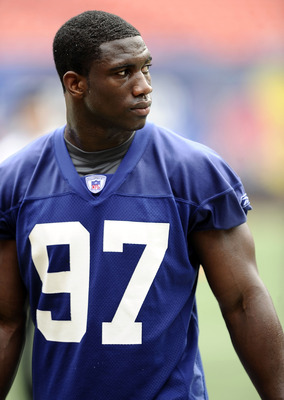 Jeff Zelevansky/Getty Images
Remember this guy? If you're a new fan to the Giants, you probably do not. Sintim was drafted in the second round of the 2009 draft, but has been a ghost in his three years with the team. He's managed just 33 tackles and one sack in three years. 
He sat out the entire 2011 season with a ruptured patella tendon and torn ACL. If ever there was someone with something to prove just to make this team, someone who previously had such high hopes, it is Sintim.
With so many young, up-and-coming linebackers on the roster, not many are giving him a chance.
Begin Slideshow
Keep Reading

New York Giants: Like this team?