Updated: August 28, 2012, 11:41 PM ET
By
Rich Cimini
| ESPNNewYork.com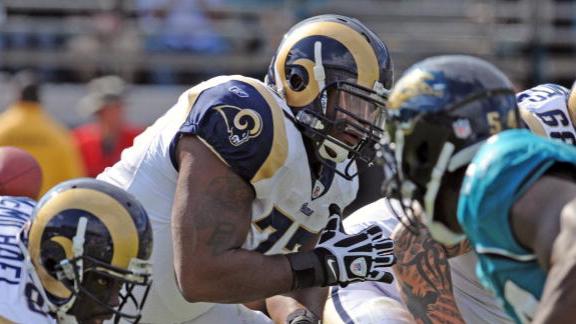 Trading One Turnstile For Another
Wayne Hunter was a weakness on the Jets' offensive line. ESPNNewYork's Rich Cimini explains why trading Hunter to the Rams for Jason Smith may not be much of an improvement.
Trading One Turnstile For Another
FLORHAM PARK, N.J. -- The New York Jets haven't scored a touchdown, but their offense leads the league in intrigue.
Even though they're planning to use Tim Tebow in a Wildcat-like package, fueling remarkable hype, the Jets decided several months ago not to show it in the preseason. They defended the strategy on Tuesday, claiming they didn't want to give opponents a chance to study it.
The world will have to wait until Sept. 9, when the Jets open against the Buffalo Bills.
"For me to go out and put something on the field and give somebody a month to prepare for it ... No disrespect, but you guys could figure it out in a month," offensive coordinator Tony Sparano told a room of reporters. "I might have a chance to figure out your job in a month. A month is a long time. I'm not interested in that."
Some might say they're being paranoid, but the Jets hope to keep opponents guessing, especially the Bills. But can they fool the Bills? Their quarterbacks coach is David Lee, a former Sparano assistant and a driving force behind the Miami Dolphins' implementation of the Wildcat in 2008.
Sparano said Lee had "very little" to do with the decision to take a clandestine approach in the preseason. The Jets worked on the Wildcat in two training-camp practices -- closed to the public, with the media restricted from reporting the details. In three preseason games, they used Tebow only as a conventional quarterback, leading the second-team offense.
Their covert plans have created some interesting moments during interview sessions, with players trying to remain as tight-lipped as possible. Quarterback Mark Sanchez, who probably will come out of the game in certain Wildcat situations, offered curt responses when asked about it.
Asked if the offense will be radically different when they unveil the Wildcat, Sanchez said, "Talk to coach. I don't know."
Later, he said, "Coach Sparano think it's a good idea, so I think it's a good idea."
After a pause, Sanchez added, "Sorry, I'm not trying to be a jerk about it, I promise."
When asked if there's a penalty for revealing too much intel, Sanchez didn't repond. At all.
Sanchez, in a lighter moment, admitted the Wildcat has created "a lot of suspense." Tebow laughed off most questions about the package, but he, too, revealed nothing. He wouldn't even go so far as to give it a name.
"In high school and college," he said, "I just called it our offense."
The way the preseason has gone, the Jets may need the Wildcat to inject some life into their offense, which has failed to reach the end zone in three games -- a total of 35 possessions. The Sanchez-led starting group, which won't play the final game, has managed only three field goals.
Sparano said he isn't discouraged, but he quickly added: "Make sure you put that in the headlines: We want touchdowns, not field goals."
You'd think they'd want to practice the Wildcat in an actual game, considering it will be part of their weekly game plan, but Sparano listed several reasons why they opted to keep it under wraps. He wants them to spend practice time learning the base offense, not a smaller package. He also thinks that practicing the Wildcat against the Jets' defense is a good simulation.
And perhaps the biggest reason: "One of the things we decided is that we had to do a lot of work with Tim to get him ready to be a quarterback, and that's something that's important," Sparano said.
Conspiracy theorists will feed on that quote, saying it's all part of the Jets' plan to have Tebow push Sanchez for the starting job. The Jets insist that Sanchez is the clear-cut No. 1.
Sparano and coach Rex Ryan started discussing the Wildcat in January, shortly after Sparano was hired. That was long before Tebow was a possibility. Once they traded for Tebow in March, the talks intensified.
The question: To be secretive or not to be secretive?
"We talked about the pros and cons, putting it out there or not putting it out there," Sparano said, also noting, "Just because we have a player in the building here that has some history running the football -- Tebow -- doesn't necessarily mean that's exactly what we're going to do."
There he goes, being evasive again. Finally, Sparano came clean. Sort of.
"There's going to be some version of something," he said.
You'll know it when you see it, but you won't see it until Sept. 9.