A couple of years ago on a forum, I once wrote a test article about Eric Mangini and how the 2008 Jets were the first true incarnation of his team. He had coached the 2006 and 2007 with mostly leftovers of the Edwards/Bradway administration and some select draft choices.
In 2008, the Jets were outrageously aggressive in the offseason and the team finally became Mangini's. Before the season, owner Woody Johnson guaranteed that the Jets could go 4-12 again and he wouldn't fire Mangini. Talk about stretching the truth.
The Jets went 9-7, but lost four of their last five, and Mangini was fired the day after the season ended on the infamous day known as Black Monday.
Rex Ryan is entering his fourth year as the head coach of the Jets, and even though there are still some Mangini holdovers (Ferguson, Mangold, Moore, Pouha, Harris, Thomas, Pace, Revis and Smith) it's more or less a team that's entirely been built by the Tannenbaum/Ryan administration.
Ryan's brash demeanor and less then serious style have led to derision, even hatred among non-Jets fans. Despite taking the Jets to two AFC Championship games in his first two years, Rex Ryan may be coaching for his job in 2012.
When the Jets hired Ryan, I was a little worried. Though I loved what he added to the team from a personality and football IQ standpoint, I was worried about the Jets hiring another rookie head coach.
It seemed like if the Jets were going to truly make a run, they needed to hire a veteran coach like Jon Gruden, Bill Cowher or Marty Schottenheimer. The Jets weren't able to lure any of them into the fold.
How many question marks are there on the New York Jets this season? I've written about it pretty extensively in my previews, but if we're being honest, you have to have questions about Mark Sanchez, the entire Jets running game, the Jets guard play, Wayne Hunter and Vlad Ducasse, Quinton Coples' ability to contribute early, the pass rushing ability of Calvin Pace, the rookie contribution of Demario Davis, the health of LaRon Landry, and the wisdom of signing Yeremiah Bell, a competition at kicker, and a back-up quarterback who is more popular then anyone else on the team.
Would you want any of these three to replace Rex Ryan as head coach in 2013?
Would you want any of these three to replace Rex Ryan as head coach in 2013?
Bill Cowher

Marty Schottenheimer

Jon Gruden

Other

Don't Fire Him
That's a lot of questions for one team to deal with and one coach to handle. Rex has always shown an ability to overcome adversity, but in 2011 it seemed like the Jets' mental toughness wavered amidst an internal crisis in the locker room.
The cryptic messages delivered by guys like Darrelle Revis, Greg McElroy and LaDainian Tomlinson regarding the Sanchez-Holmes-Schottenheimer dynamic was worrisome.
Can the Jets co-exist with each other in 2012? Can Mark Sanchez handle the looming shadow of the world's most popular punt protector backing him up at quarterback? Can the Jets get everyone healthy?
I'm a fairly optimistic person, and it certainly helps that the AFC is outrageously weak right now, but with all these question marks it seems almost impossible for the Jets to succeed in 2012. The potential is there, but putting it all together will require the best coaching job Rex Ryan has ever done.
And Ryan needs it. New York reminded us when they fired wunderkind Eric Mangini in 2008 that a winning record isn't enough. You're expected to win, and win now, even when you're rebuilding.
And the Jets are walking a dangerous path. They're trying to do something that few teams are ever successful at--rebuild and still contend. In a previous article I noted that the Jets are likely going to move on from seven players after 2012. Five of those players are probably going to start in 2012.
If all five players struggle, the Jets may not win more than four games. Remember, you are only as strong as your weakest link.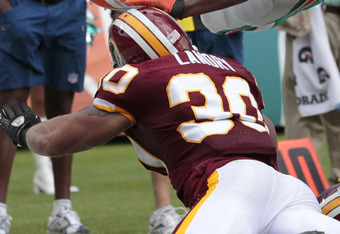 The Jets need a big season from a healthy LaRon Landry.
Joel Auerbach/Getty Images
In 2007, the Jets were held back in four areas: LG, RT, NT and OLB. The Jets didn't have a necessarily bad roster, but those four positions were filled by four truly awful players--Adrien Clarke, Anthony Clement, Dewayne Robertson and Victor Hobson.
And it was a disaster. It probably ruined the development of Kellen Clemens. He became incredibly skittish in the pocket after 2007.
If the Jets are weak at guard, right tackle, both outside linebacker spots, and inside linebacker, along with the questions at quarterback, wide receiver, running back, and safety, this season seems doomed for failure.
Hence, Rex Ryan and the Jets are at a crossroads. The Jets showed they were willing to fire Eric Mangini despite a five-win improvement in 2008 because of the way the season ended--losing four of five to blow a division lead and miss the playoffs entirely.
So for Rex it's quite simple. If you want to save your job, get into the playoffs with this team. If the Jets miss but have a valiant late-season run, his job will likely be safe. If the Jets have another December swoon, his seat is going to be hot.
If the Jets flounder and completely falter this season Ryan's goodwill from the AFC Championship appearances will likely be used up. Too much bad blood in two straight seasons won't sit well with Johnson or Jets fans.
For the record, I don't think firing Ryan is the right decision unless he loses the locker room's "pulse" again and creates infighting.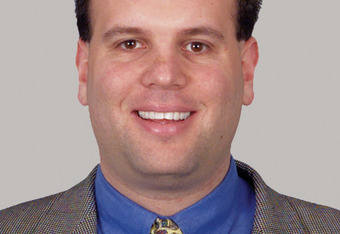 Can Tannenbaum find the formula in 2012?
Handout/Getty Images
And as much as I hate to say it, Mike Tannenbaum's job is not safe if the Jets fall apart. He'll be fine in any situation where the Jets are .500 or better.
He's done more than enough good, and I have more faith in getting contributions to the team from Quinton Coples, Stephen Hill, Demario Davis, Josh Bush and Jordan White then I do of the free agent acquisitions of LaRon Landry or Yeremiah Bell.
The Jets are like a volatile experiment. They could be wildly successful and re-establish their place in the NFL as a threat, or they could look like Dr. Frankenstein's monster: a hodgepodge of players that are elite at their position that can't carry the team because of the nature of the game.
So what's the point?
Rex Ryan needs to survive 2012. The Jets need to survive 2012. Though the 2013 free-agent class looks particularly weak, the Jets will at least be able to create some flexibility for themselves by moving on from Calvin Pace, Bart Scott, Bryan Thomas and Eric Smith.
Assuming they have a good season assumes that Wayne Hunter isn't completely awful, but the Jets will probably hand him his pink slip as well.
It's all relative. For the Jets to have a chance at thriving in 2013, they need to survive 2012. They need Mike Tannenbaum and Rex Ryan in 2013, because if the Jets flounder in 2012, it could mean the first rebuilding process since the 2006 offseason.
The Jets were fortunate to make the playoffs in 2006. They were a rebuilding team that played a soft schedule and won a lot of close games.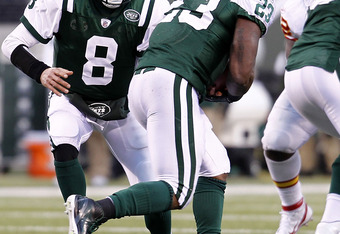 How long until Shonn Greene regains his 2009 form?
Jeff Zelevansky/Getty Images
If there is one thing that Jets fans don't want, it's a long rebuilding process. Success in 2012 will allow the Jets to fix some of the cracks in the foundation for 2013. Failure may lead to a total demolition of what worked so well in 2009 and 2010.
Will Shonn Greene find his explosiveness from 2009? Can Stephen Hill be the immediate contributor that many think he can be?
The amount of questions is enough to drive you insane. To paraphrase the popular Lord of the Rings films, the Jets' quest stands upon the edge of a knife. Stray but a little and they will fail to the ruin of Jets fans. Like I said, I was paraphrasing.
2012 is a make-or-break year for the Jets. I don't think Jets fans really believe the Jets are Super Bowl contenders, but if they can survive this year, they might just make 2013 a year to remember. If they can't survive, there are going to be a lot of fans playing armchair GM next January.
Rex Ryan and the New York Jets are at a crossroads; a fork. Which path will they take?
Follow Alex Wiederspiel on Twitter @HammeredBySpiel