His name is Brian Banks. To most New York Giants and NFL fans, that means absolutely nothing.
But once upon a time, Banks was a top-ranked linebacker recruit at Long Beach Polytechnic High School awarded a scholarship to play football for Pete Carroll at USC. Today, he is a wrongfully imprisoned 26-year-old finally exonerated from a rape charge that sidetracked his life for over a decade.
Banks pleaded no contest in 2003 at the age of 16 as part of a deal to lessen his sentence from a maximum of 41 years in prison to six, though he continued to maintain his innocence.
Banks' accuser Wanetta Gibson previously told him of her desire to clear his name after friending him on Facebook, but refused to repeat her statements to prosecutors when she became worried of having to repay $1.5 million from a civil lawsuit brought against the Long Beach Unified School District by her mother.
The case was dismissed based on documents filed by Banks' attorneys, including a video recorded by a private investigator of Gibson admitting she had falsely accused Banks when the two met a day after becoming friends on Facebook.
Banks remained on probation following his release from prison, still wearing a monitoring device on his ankle at the Thursday hearing which cleared his name. On NBC's Today, his lawyer said the first thing the two planned to do was report to probation officials and have the bracelet removed.
Now with his name cleared and his existence freed from the damnation of life as a sex offender, Banks has his eyes set on pursuing his lifelong dreamâ€"playing football in the NFL.
According to Banks' personal website, the former high school star began training on October 1, 2011 with his brother and former Notre Dame safety Freddie Parish III.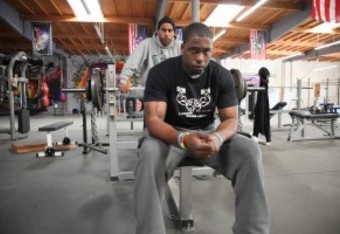 Brian Banks is focused on accomplishing what he dreamed of doing 10 years ago as a high school star lined up to attend USC--play in the NFL.
He told Ann Curry on Today, "I think that any team that gives me an opportunity would be really impressed with what I can do despite all of what I've been through these past 10 years."
And perhaps that team could be the defending Super Bowl champion Giants.
What the 6'3", 245-pound linebacker can give the Giants is unknown. Banks has not seen the football field in well over a decade. However, the Giants could use some talent at any of the linebacker positions and who knows, Banks could be an untapped talent rolled into a feel-good story in the mold of last season's heartwarming tale of Mark Herzlich overcoming cancer to earn his spot on an NFL roster.
If nothing else, he is a man deserving of an opportunity in a world that was unjustly stripped from him. He may have no place in the NFL, but in the same vein of the Tampa Bay Buccaneers signing paralyzed Rutgers player Eric LeGrand, Banks deserves his chance to prove himself after all he has gone through.
He does not need a roster spotâ€"at least not if he does not warrant oneâ€"but with so much uncertainty within the linebacking corps, why not uplift Banks' spirit some with a tryout and see what he can offer your team?
He boasts NFL size and could run a 4.5 40-yard dash in high school. After all he has gone through, he is humble, driven and hard-working. Â 
Banks is the type of man the Giants love to have on their roster and in their locker room. What he has to offer on the football field, no one really knows, but the Giantsâ€"and the NFLâ€"will never know unless they enable this young man to take a shot at finally living out his lifelong dream.
You can learn more about Brian Banks and his story at BrianBanks.org and the Facebook page, The Brian Banks Story.