The 2012 New York Jets are going to be the last incarnation of a team that was first built between 2006-2008 when Eric Mangini and Mike Tannenbaum took over a long rebuilding process of a team that was decimated just about everywhere after Herman Edwards left for Kansas City and Terry Bradway stepped down to take a lesser role in the organization.
In this article we'll review what these seven players have added to New York since they joined the team and why they're likely out after 2012. Big changes are likely in store for 2013 with the roster.
Brandon Moore, OG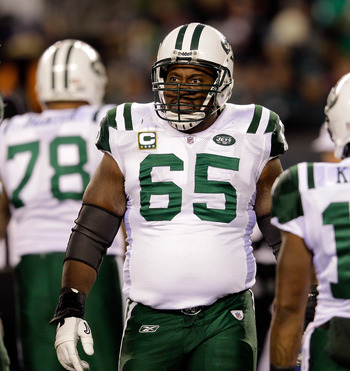 Long underrated by the rest of the league, Brandon Moore's career with the Jets may finally be nearing its end.
Rob Carr/Getty Images
Moore is entering the final year of a contract he signed before the 2009 season when he briefly tested the free-agent market.
He was undrafted out of Illinois in 2002 and spent his first season on the practice squad. He made his first appearance for the Jets in 2003, starting one game and appearing in three total. Moore started 13 games in Curtis Martin's 2004 rushing title season and hasn't missed a start since then. Moore was one of just two offensive linemen to survive the great offensive line purge that occurred after the 2005 season when Jason Fabini, Kevin Mawae and Adrian Baker were sent packing.
Moore had a down year as a run-blocker, though he excelled as a pass-blocker in 2011 and finally was selected to his first Pro Bowl. Moore turns 32 in a few days and struggled with a hip injury before last season. If Moore can prove that he can stay healthy, the Jets may choose to bring him back in 2013. If he struggles run blocking again, though, odds are he won't be back in New York after this season.
Wayne Hunter, OT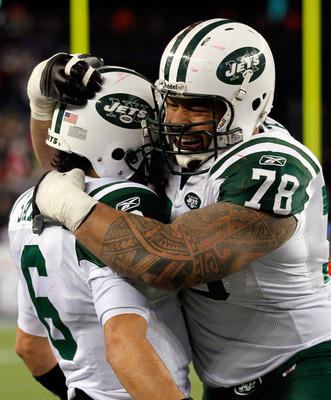 If Hunter doesn't bounce back in 2012 he will be a cap casualty in 2013.
Jim Rogash/Getty Images
The Seattle Seahawks drafted Wayne Hunter in the third round of the 2003 NFL draft out of Hawaii. He bounced around with the Seahawks and Jaguars until landing with the Jets in 2008. Hunter was used as an effective swing tackle until 2010 where he started four games due to an injury to Damien Woody. The offense didn't miss a beat, so the Jets chose to give Hunter a four-year contract.
Soon to be 31, Hunter was miserable in 2011 in his first year starting. There was virtually no redeeming quality to his game, but he's a high-character guy in the locker room on a team that badly needs it. After Hunter called out Santonio Holmes in the final game of the season for dogging it the Jets couldn't send the message that talent trumped character so they gave Hunter a chance to regain his 2010 form by bringing in a new set of offensive coaches to help him out.
That being said, Hunter isn't on scholarship anymore. The Jets can save $4 million by releasing him next offseason. If he struggles in 2012 like he did in 2011, he won't be back, and the Jets will likely miss the playoffs.
Mike DeVito, DE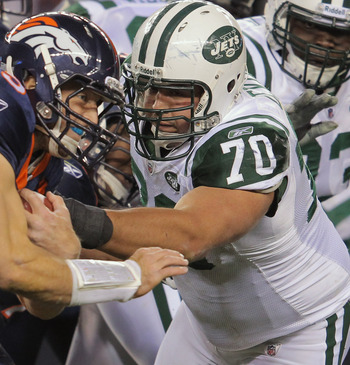 Mike DeVito will likely test the free-agent market in 2013.
Doug Pensinger/Getty Images
Mike DeVito signed with the Jets out of Maine in 2007 as an undrafted free agent. DeVito worked his way into the starting lineup and started 22 games in 2010 and 2011 for the Jets. He was never much of a pass-rusher, but the Jets run defense excelled with DeVito in the lineup.
After the Jets drafted Quinton Coples this April and Rex Ryan essentially anointed him the starter, DeVito restructured his deal that has just one year remaining on it and will look to play as a situational run-defender in 2012.
DeVito might be able to sign a nice deal somewhere next offseason and the Jets probably won't be able to afford his services. If the Jets get a nice compensatory selection for DeVito it'll be worth letting him walk, but if he finds a soft market the Jets could bring him back as a rotational player.
You know how the market works, though. Some team is going to probably want DeVito, and if it does, he'll follow the money. It's nothing against him. If you have the chance to make some money in this dangerous sport you need to do it. And if the Jets have a chance to get a compensatory selection for DeVito in 2014, they should take it.
Bart Scott, ILB

With a big cap hit and reduced playing time this may be the end for Bart Scott.
Nick Laham/Getty Images
Bart Scott made his career as a Baltimore Raven and signed a big six-year, $48 million deal with the Jets before the 2009 season. Scott started off as an every down linebacker in 2009 and had an outstanding first two seasons with the Jets. He was a multidimensional linebacker who swarmed to the ball-carrier. His addition was welcome in New York in coverage. He did a nice job covering tight ends and running backs, something the Jets had sorely missed in 2008.
In 2011 everything fell apart. Scott appeared to lose a step and became a major coverage liability. He was removed from sub packages on passing downs and vocally expressed displeasure with his role.
The Jets can save $7.15 million by cutting Bart Scott next offseason and it will save them $8 million the following year. It's almost a sure bet Bart Scott won't be back in 2013, especially with the addition of linebacker Demario Davis in the draft.
In 2013 the Jets are going to have a totally overhauled linebacking corps.
Calvin Pace, OLB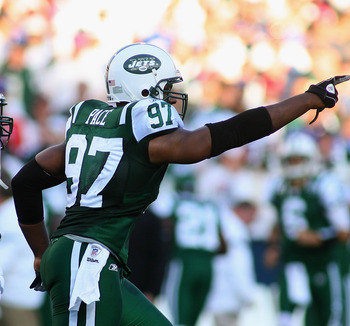 Pace was once the Jets' best pass-rushers. Now he's a shell of his former self.
Rick Stewart/Getty Images
The big 6'4'', 265-pound Calvin Pace was a first-round pick out of Wake Forest in 2003 by the Arizona Cardinals. Pace was considered a bust nearly his whole career, but in the final year of his rookie contract with Arizona, Pace broke out with 6.5 sacks and was able to provide consistent pressure, good coverage ability and great run support moving to linebacker. Many believed Pace was only playing to get a new contract in free agency and it finally motivated him.
Eric Mangini and Mike Tannenbaum took a risk on Pace after the Jets struggled in 2007 with a 4-12 record and no pass rush. Pace signed a six-year, $42 million deal to replace Victor Hobson. In his first season, Pace looked the part with seven sacks and great run support in one of the best run defenses in the NFL (Jets fans sure do miss Kris Jenkins). In 2009, Pace really enjoyed the new Rex Ryan defense with eight sacks in just 12 games. However, Pace started losing a step in 2010 and will be 32 in October. He's even struggling in one-on-one situations now.
Pace is entering the fifth year of his front-loaded six-year deal. Next offseason the Jets can save more than $8.5 million by releasing him. It's almost a sure bet he's gone. The Jets are going to be cap strapped going into 2013, and it's not efficient for the Jets to keep a player who doesn't provide the type of production Pace's contract would expect.
He's as good as gone.
Bryan Thomas, OLB

Thomas may not make it out of training camp.
Nick Laham/Getty Images
After suffering a bad Achilles injury last year, the Jets let their former 2002 first-round pick walk only to eventually re-sign him a few weeks later. Bryan Thomas struggled for most of his career as a defensive end but moved to linebacker in Eric Mangini's 3-4 defense and broke out with 8.5 sacks in 2006. Since then he's been a staple of the Jets defense and has been a somewhat inconsistent pass-rusher but an outstanding run-defender.
However, he'll be 33 in a little over a week and coming off a miserable Achilles injury that ruins even the best players careers in their youth. Thomas may not even make it out of training camp if Aaron Maybin shows he can play in the base defense. It would be a serious upset to see Thomas wearing green and white after 2012.
Eric Smith, S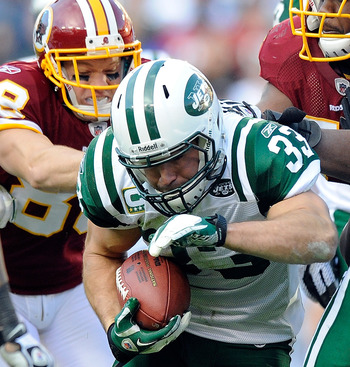 Fans can't wait to see Eric Smith go.
Patrick McDermott/Getty Images
The former Michigan State safety was drafted at the end of the third round in 2006 by Mike Tannenbaum and Eric Mangini. He started as a rotational safety and special-teamer starting 20 games in his first five years with the Jets. Last year the Jets signed him to a three-year deal worth $7.5 million and he started 14 games.
He's a good run-defender, a solid blitzer and a good rotational player, but Smith can't perform in coverage. Now with the additions of LaRon Landry, Yeremiah Bell, Josh Bush and Antonio Allen it seems likely Eric Smith is on the outs. Smith may not make it out of training camp since he's due to make more than $2 million and likely won't be starting. In 2013 it seems even less likely he'll be back since the Jets can save $3 million by cutting him.
The fans will be glad to see Smith after he struggled last year. Even though Smith was playing through a bad injury to his knee he's never been great in coverage. It seems unlikely he'll be back after 2012.
Begin Slideshow
Keep Reading

New York Jets: Like this team?