In a wild Eastern Conference Finals series between the New Jersey Devils and New York Rangers, the back-and-forth after four games thus far has left the teams deadlocked at two games apiece. The Rangers won the first and third games, the Devils the second and fourth. Both teams are fighting to play the Los Angeles Kings, who defeated the Phoenix Coyotes last night to move to the Stanley Cup Finals.
If you like the symmetry in the series to this point, it appears that the Rangers will win Game 5, but there are some major X-factors weighing that outcome and the outcome of this series.
In the two games the Rangers have won in this series, Henrik Lundqvist has been a major reason why.
Both Ranger wins have been 3-0 shutouts, and in those two wins, Lundqvist recorded 21 saves and 36 saves respectively. Lundqvist struggled in Game 4, giving up three goals on 29 shots. The numbers so far indicate that Lundqvist will have a bounce back game in Game 5, but the pressure is certainly on.
Game 5, being played at Madison Square Garden, is a must-win for the Rangers. If New York loses on their home ice, they'll be facing a 3-2 deficit heading back to the Prudential Center, which is a challenge they need to avoid.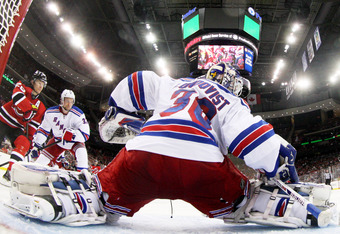 Henrik Lundqvist will need to have a bounce back game for the New York Rangers to have a chance in Game 5.
Jim McIsaac/Getty Images
After four games, Lundqvist has proven that every other game often lends him to a stellar performance in goal, which will need to happen again if the Rangers want to take a 3-2 lead on their way to the Stanley Cup Finals.
In addition to the play of Lundqvist, who sports a stellar 1.65 goals against average for the playoffs, there are other deciding factors to look out for.
Another factor that can't be overlooked is that the Rangers need to keep a level head.
New York looked visibly frustrated in Game 4, and it hit a tipping point when Mike Rupp lost his cool and popped Martin Brodeur in the face.
The Rangers need to be able to put that 4-1 loss behind them and remember to maintain their composure on the ice. If they can channel their frustrations into gritty play and toughness, instead of rash antics, they should be able to bounce back from an ugly loss.
The same goes for the Devils.
The Rangers have been on that tipping point of losing their composure in this series. It appears as if the Devils are in the Rangers' heads at the moment, which is exactly where New Jersey wants them.
Who do you think will win the series?
Who do you think will win the series?
New York Rangers

New Jersey Devils

Whichever team wins Game 5
Playoff hockey is a physical, high intensity, high emotion game. The Devils to this point have been able to keep their emotions in check and simply play hockey.
In games that mean so much, where one mistake or miscue could be the difference, those "frustration fouls" and penalties must be avoided at all costs.
Finally, an X-factor that may get overlooked in this series is the coaching of both squads.
Rangers head coach John Tortorella is trying to prevent his guys from hitting the panic button, saying after the Game 4 loss that his team has to, "Move by it. Move by it. You need to have a short-term memory."
In contrast, Devils coach Pete DeBoer, though inexperienced (he's coaching in the playoffs for the first time), seems to have made all the right adjustments.
DeBoer inserted 21-year-old Jacob Josefson into the lineup in place of Petr Sykora for Game 4. Josefson responded with an assist and three takeaways, while winning 64.3 percent of his faceoffs.
What makes this series so intriguing is that the coaching matchup is just as exciting as the play on the ice.
Which coach will make the best adjustments moving forward in a series tied at two apiece? I think the answer to that question may end up deciding who moves on to the Stanley Cup Finals.