Fans of the New York Jets are already lined up outside Radio City Music Hall for the 2012 NFL draft, and once the clock strikes 7:00pm ET, the moves will come fast and furious.
If you're following along here, though, you won't miss a tick. 
This tracker will be updated throughout the draft with grades, analysis and reaction to all the picks, trades and moves that the New York Jets make in the draft.
Click through to keep up with the Jets in the 2012 NFL draft.
 
What's Happening Now

Counting down the hours.

The Jets will be on the clock with the 16th overall pick...unless they trade up.
And that's the buzz, according to Rich Cimini of ESPN New York, who says the Jets have contacted Alabama running back Trent Richardson about moving up to trade him. Although it might take a hefty price to move up and get him, it wouldn't be a completely uncharacteristic move for the Jets to make.
If the team elects to stay put, though, they've been connected several times to Alabama linebacker Courtney Upshaw and South Carolina linebacker Melvin Ingram. Even more buzz has them taking Notre Dame wide receiver Michael Floyd.
They have 10 selections with which to address their biggest needs: safety, wide receiver, linebacker and offensive tackle.
So, as always, there are as many opinions as there are people to voice them. Guess we'll just have to wait until 7:00.
What follows are the Jets' draft choices and moves, and they will be updated as the draft progresses, when selections and trades are made official.
Updated selection list
First Round, Pick 16
Second Round, Pick 47
Third Round, Pick 77
Fifth Round, Pick 154
Sixth Round, Pick 187
Sixth Round, Pick 202
Sixth Round, Pick 203
Seventh Round, Pick 242
Seventh Round, Pick 244Â 
First Round, Pick 16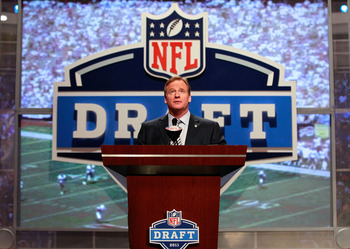 Chris Trotman/Getty Images
The Jets will make their first selection sometime after 7:00pm ET.
Who do you think the Jets should select? Join the discussion in the comments section below.
Begin Slideshow
Keep Reading