Prince Amukamara's high ankle sprain opened the door for another cornerback for the New York Giants in their Week 1 matchup against the rival Dallas Cowboys, and that corner is Michael Coe.
Giants defensive coordinator Perry Fewell confirmed the news to ESPN New York on Sunday, saying, "He'll get the start. In the OTAs, Michael performed well and really gave us the confidence that we had another guy that was competing at corner."Â Â 
Ohm Youngmisuk of ESPN New York confirmed the move to his Twitter followers when he tweeted:
Coe provided great depth for New York in 2011 before going down for the rest of the season with a shoulder injury against the Philadelphia Eagles in Week 11.
The 28-year-old DB out of Alabama State has been in the league since 2007, playing for the Indianapolis Colts, the Jacksonville Jaguars in 2009 and the Giants since 2010.
Coe missed the entire 2008 season after injuring his knee during training camp and being placed on the IR by the Colts.
Despite what the statistics show (Coe has yet to record a career interception or sack), Coe has been a reliable corner throughout his young career, and Fewell echoed that on Sunday via ESPN New York:
Michael can run, he is very fast. Michael is physical and is not afraid. And Michael has a very strong mentality. If he doesn't have success on a play, we can chew his (rear) out and he'll come back and make a play for you. So I like his mental makeup also.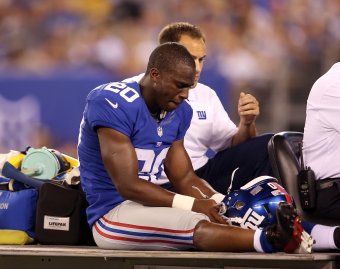 Elsa/Getty Images
The Giants aren't missing a beat against the
Cowboys
this Wednesday with Coe replacing Amukamara, given that Prince is still a rookie, in the sense that he didn't participate in training camp in 2011 and played just seven games for the G-Men during the regular season.
Coe has a lot more experience than Amukamara and has the confidence of his coordinator to keep him motivated on the field.
Fewell added that the Giants have options at the nickelback spot on Wednesday, with Antrel Rolle, Will Hill and rookie Jayron Hosley all factoring into the mix.
The Giants have had great success against the Cowboys in recent years, and with the defense they're putting out on the field this Wednesday night, there's no reason to think they won't continue that success.
Follow me on Twitter:Â