To be blunt, the New York Jets of the Rex Ryan Era have dominated the Chan Gailey led Buffalo Bills. This is a sad, but accurate account of the shellackings that the Bills have endured over the past two seasons at the hands of their division rivals. Â 
However, despite the last four games ending with New York victories (and three in lopsided fashion), there are still reasons for Bills fans to feel confident entering the Week One showdown in the New Meadowlands. Between players returning from injuries this year (See Williams, Kyle), the additions of Mario Williams and Mark Anderson, and what seems to be a hungrier and more mature team, the Bills look poised to make a run at a playoff berth for the first time in this millennium. Â 
Even still, the road to the AFC Playoffs goes through New Jersey. Â 
And so, as the first Sunday of the NFL season rapidly approaches, it's time to analyze the match-ups that will most likely decide how this year's edition of Jets-Bills will turn out. Â 
Sione Pouha vs. the Injury Report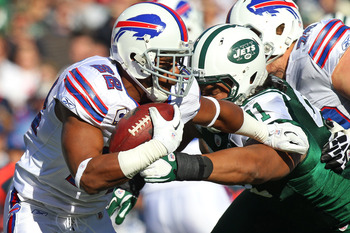 Tom Szczerbowski/Getty Images
All indications coming out of Jets camp going into this week were that their 6' 3" 325 pound stud NT, Sione Pouha, would be available for Week One after battling through a nagging back injury that kept him out of the entire preseason. Now, it appears that Pouha's injury might be more problematic than initially thought. Â 
Rex Ryan came out on Monday and said that he is unsure of Pouha's status for this week, calling this particular back injury "tricky." Bills fans know all too well about the long recovery time associated with back injuries, especially on bigger players, after witnessing 2010 2nd round pick, fellow NT Torell Troup, head to the Injured Reserve for the second consecutive season with a nagging back injury. Â 
Pouha has been a key cog in the Jets' ability to stop the run over the past couple seasons by consistently drawing double teams and wreaking havoc on interior offensive linemen. The Bills, in particular, have struggled running the ball against the Jets, averaging just over 83 rushing yards per game over the past two seasons. Â 
If Pouha is inactive or severely slowed by his back injury, it could spell big trouble for the Jets as they attempt to contain one of the most potent running back combinations in the AFC. Â 
Bryan Scott vs Dustin Keller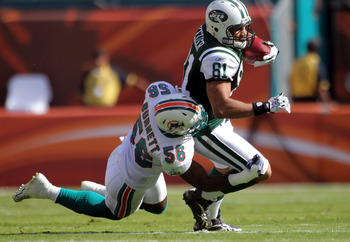 Marc Serota/Getty Images
This is a match-up of two wildly under appreciated players by their respective fan bases. Dustin Keller has the makings of an elite NFL tight end, but inconsistent quarterback play, as well as some baffling play calling have kept Keller from developing into the player he has the ability to be. Also, Keller has been a thorn in the side of the Bills for the past two seasons, catching four touchdowns in four games against Buffalo.  
Bryan Scott, the piano-playing hybrid LB/S, was on the field more than most Bills fans realized last year, functioning as a starting LB in the team's nickel and dime packages. Undersized as a linebacker, Scott excels in coverage and is often tasked with covering the opposing teams running backs and tight ends. Scott recorded a pair of interceptions for the Bills last year, one of which he brought back for a touchdown. Â 
A key for the New York Jets this weekend should be getting Mark Sanchez's confidence up early and there is no better way of doing this then finding Keller on some short passes to begin the game. However, if Scott is able to adequately disrupt the timing of Keller's routes, it very well could force Sanchez into some of his patented bad decisions. Â 
Mario Williams vs. Austin Howard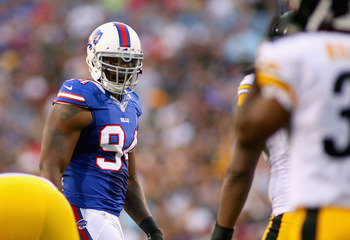 Rick Stewart/Getty Images
It appears as though RT Austin Howard is going to be baptized by fire in his second NFL start and first since the 2010 season. After assuming the RT position due to the ineptitude of incumbent RT Wayne Hunter, Howard will be tasked with going against one of the most physically gifted defensive ends in football, Mario Williams. Â 
According to WGR 550's Joe Buscaglia, Howard, despite his size (which at 6'6" and 333 lbs is almost ideal for an NFL lineman), has a habit of overextending himself and getting himself off balance when pass blocking, thus making him susceptible to pass rushers with a bevy of different moves. Williams, a former All-Pro with 53.0 career sacks before his 28th birthday, possesses the repertoire of moves that could give the Jets fits all afternoon.  
Not only could this matchup dictate the number of times that Sanchez is hit throughout the afternoon, it could also force Offensive Coordinator Tony Sparano to keep TE Dustin Keller in more to chip Williams in pass protection, effectively negating one of the Jets best offensive assets. Â 
Aaron Williams vs. Stephen Hill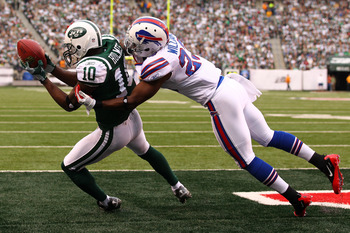 Al Bello/Getty Images
To me, this is one of the most intriguing match-ups to watch this weekend. Aaron Williams bounced back from a slow start to his rookie year in 2011 (he was the one who allowed most of the 200+ yards to Wes Welker in Week 3) to end last season with some really solid performances that left many Bills fans excited about his future with the team. Â 
A disappointing training camp and preseason, though, have left many wary of the idea that Williams is a capable starter on the outside at this juncture of his career. Williams lacks top end speed and relies on his physicality at the line to make plays. The problem with this is that too often he allows his man to get by him without slowing down him down at the line, making it difficult for the safeties in coverage behind him to make a play. Â 
Enter Stephen Hill. A raw, but talented rookie receiver out of Georgia Tech's option offense. If New York can find a way to use Hill's 4.3 speed to take the top off of the defense and open up underneath routes, Buffalo could be in trouble.
However, if Williams can frustrate Hill at the point of attack enough to induce rookie mistakes, like drops and other miscues, it further shrinks the Jets' offense. Â 
Ryan Fitzpatrick vs. Rex Ryan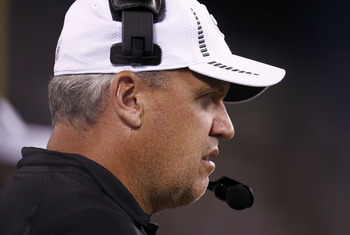 Jeff Zelevansky/Getty Images
Rex Ryan is one of the most creative and innovative defensive play callers in the NFL right now. Ryan Fitzpatrick runs an offense that is predicated almost completely on him using his intelligence to make the correct pre-snap reads in order to exploit match-ups. Obviously, this game of cat-and-mouse is going to be one of the most important to the outcome of this game. Â 
Ryan won the first match-up between the two last year after constant pressure and disguised coverages led to Fitzpatrick's worst performance of the season to that point. In that 27-11 loss Fitz threw two interceptions, completed less than half of his passes, and was fooled several times by ever-changing fronts and coverages.  
Week 12 was a different story. At this point the Bills were in free fall. Injuries had decimated the team and, after a promising 5-2 start, Buffalo was 5-5. Fitzpatrick then, in my opinion, turned in the best complete game of his career. He dissected Ryan's vaunted defense to the tune of 264 yards, 3 TDs and a Quarterback Rating of 111.5. Fitzpatrick served as a more traditional quarterback in this game by utilizing play action passes more often than usual and the Bills were a mere Stevie Johnson drop away from stealing a victory in the New Meadowlands. Â 
This week, it may very well be the thinking game that decides who starts the season 1-0. Â 
Stevie Johnson vs. Darrelle Revis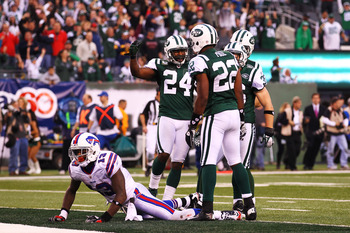 Al Bello/Getty Images
By now everyone knows the story. Darrelle Revis shuts down everybody.
Everyone except Stevie Johnson.
Johnson's distinct route running style, namely his ability to get off the line against press coverage, has allowed him to have success against Revis on shorter routes. Â 
Looking at the statistics from both games last year (11 catches for 159 yards and 1 TD, good for 14.45 YPC), it does appear that the argument of Revis' struggles against Johnson does have some merit. Johnson does not have the speed that many other receivers in the NFL have, but he does an excellent job playing in space in Chan Gailey's offense. His fast feet and ability to read defenses quickly, as well as a very good working relationship with Ryan Fitzpatrick, could solidify his place as the lone citizen on Revis Island. Â 
Recently, Rex Ryan, LB Bart Scott, and Revis, himself, have downplayed Johnson's effectiveness against the best cover corner in football. Despite all the talk, Revis appears motivated to put an end to the notion that he has trouble guarding Stevie Johnson. Â 
This match-up and, possibly the game, could hinge on one big play, whether it will be a pick-six by Revis or a touchdown the other way for Johnson, remains to be seen. Â 
Begin Slideshow
Keep Reading

New York Jets: Like this team?